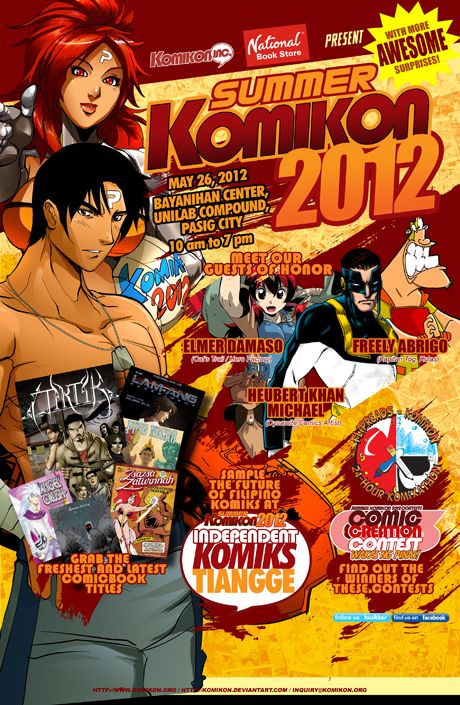 The poster can sell itself
Summer KOMIKON 2012 is the first hobby-related convention I've attended this year. The event was held in Bayanihan Center (Unilab compound) near Shaw Blvd. Two of my friends have attended KOMIKON last year in the same venue. My friends noted how conducive the venue was for events such as this. This got me excited since not only I'll get to see talented artists but to experience an event in a new venue. Especially since I'm currently scouting for possible venues for our Christmas Party (yes, we're planning this early since we have a large population).
update: I learned that during December, Bayanihan Centre is used exclusively by UNILAB. Would love to hear your suggestions for venues good for 300pax-up.
We arrived at 2:00pm. There was a long line already of people. We followed that line but one of the crowd management staff asked us if we're lining up to have our comics signed by Manix Cabrera (Kikomachine).I've to commend that staff for being attentive in assisting the con-goers. We didn't waste time in a wrong line.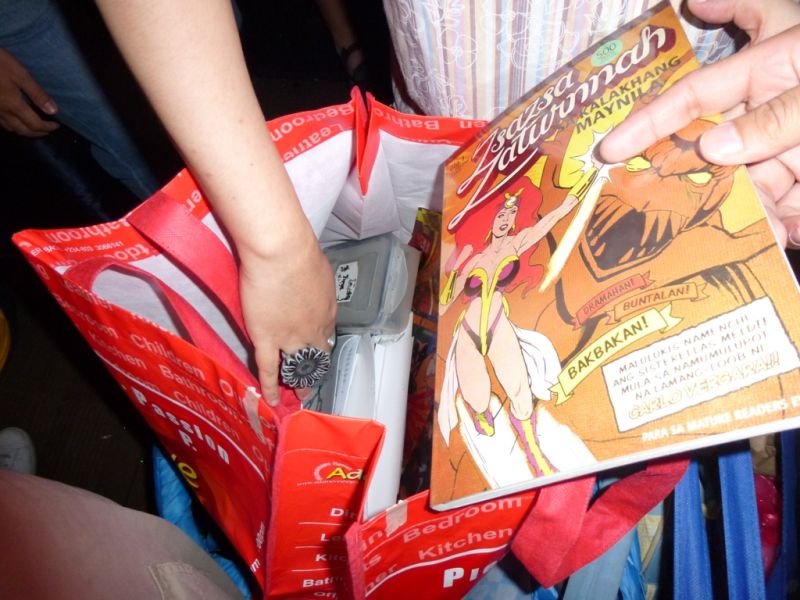 Our mothers liked DARNA. In our time, it's ZSAZSA. chos!
It took us a while to find our other friends. There were a lot of people in the venue. But nonetheless, I love the venue! The aircon's working and was able to keep the room conducive for us, excited geeks. Also, the restrooms looked decent. YAY!

There were also some artists who gave out their work for FREE! And the quality of work isn't something you'll overlook at. My initial impression was: really? This is for free? It looks good as those being sold at the booths.

I also met some artists from Bacolod! I learned from them that they sell their comics at 7-11 stores (Bacolod). Sofuckingawesome that artists are allowed to sell their works at a convenience store. I think it's a good strategy to reach people and be noticed. :) I bought one of their works and gave it to my brother since I know he'll like their art style.
Artists from Bacolod and their table
There's also an upcoming movie with a comic book tie-in called
TIKTIK
. Local celebrity, Dingdong Dantes was there to promote it. What's unique about this TIKTIK movie is that they did it 100% on a green screen! It's a 1st in Philippine Cinema. I heard that the movie will be released around October. I'm really forward to it and I've to agree to what my friend said:
There is so much mythology going on in the Philippines that there's really no need to borrow monsters from Hollywood and Korea.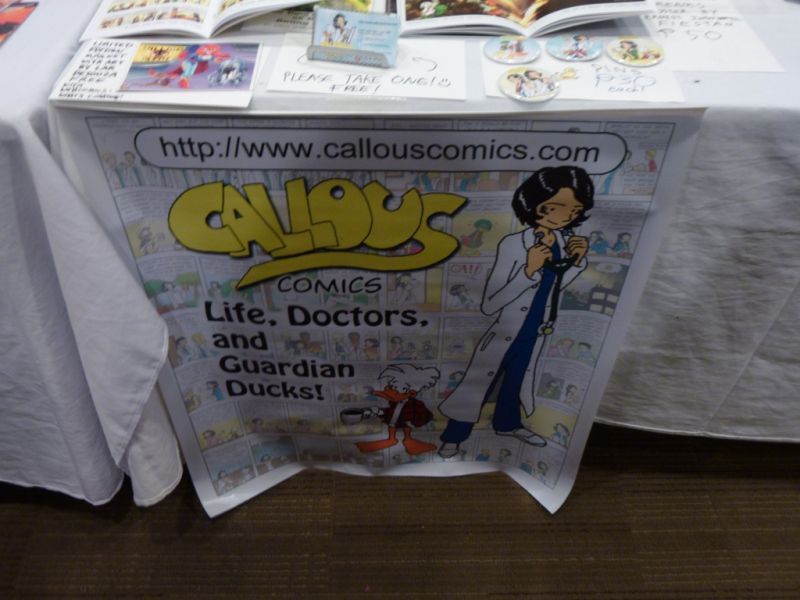 I also met Carlo Jose "Caz" San Juan, MD of CALLOUS COMICS. Yes people, he's a doctor and a comic book artist! It was Jay who told me about Doc. I was really amazed and intrigued that there's a doctor in this field (comics). It's my first time to meet someone like him. I have friends who are also doctors who like anime/comics, a few has artistic potential but never really pursued it. Doc was really nice to accommodate my questions and he even signed my copy. Honestly, he really inspired me that day. He's a doctor and yet he's involved with something that is outside of his profession. It made me think that I should try something like that. Not doing a comic book per se but to manifest both my profession and geek side TOGETHER. I tend to separate them in most occasions as I'm always afraid of what people will say about me. There's this constant tension of the opposites especially with people at work. Usually when they learned I like anime and comics, they seem not to see me at their own level. UNLESS of course, we share the same hobby. But by meeting Doc, it really made me braver to pursue things that I like. I'm looking forward to work with Doc. I told him that I'm proposing an activity for our employees in relation to hobbies such as comics and would love to have him as a guest. I'm humbled that he's open for some engagements. Wee~
Btw, there's also another doctor who's a comic book artist. He's involved in a project called: Palimos ng Kulangot. And there's another doctor whom Doc San Juan wanted me to meet as well. Whoa, 3 doctors who are also comic book artists! Hm.. when will I see the day that an HR practitioner will venture into comics? Delete what I've mentioned earlier. Anyone who's interested to do a short panel with/for me? I'll just tell the story tho. I can't really draw to save my life. XD
Coincidentally, one of my officemates found me in KOMIKON. He was surprised that I was there. He never saw me as a comic book enthusiast *daw*. He asked me if I've been to anime conventions. I said yes and then he squinted his eyes and said he never saw me once. There must have been a light bulb up in his head when he said, "Maybe you're into cosplay!" I just laughed and he asked me again about cosplay. I admitted that I do cosplay. My officemate said: "What characters have you done already? I never saw you. You must be joking." I laughed again and replied, "You'll be surprised to know."
It was really nice to see my friends, Jay, Marthy(MANGAholix), Ian(wickedalucard), Chapel, WackyRodent (SilentSanctumManga) and made new ones. :)
I felt bad that I wasn't able to bring more cash on that day. I wanted to buy more~ I failed to buy some stuff from ElectroMagnetic Tentacle, Kubori Kikiam, Rommel Estanislao and Carlo Vergara. >__>
I KNOW! I'm such a loser for going home without any item from them.
My friend and I were on a hunt to look for comics with Northstar in it. Sadly, we weren't able to find one. I can't help but laugh when I notice how the guy beside me was shocked to hear what I was looking for. I have a funny feeling that he knows about Northstar. :))
There was also a tribute for Tony de Zuñiga (the iconic artist who paved the way for other Pinoy talents in the international comic book industry) during KOMIKON. We have a lot of talented artists here in the Philippines. I hope in our own little way we can support them. Being an artist here in the Philippines has been viewed as not the most practical way to earn a living. Seeing those artists in KOMIKON, I can't help but admire their passion in their work.
I was lucky that National Bookstore accepts credit card and I was able to purchase some graphic novels. Our group stayed at the venue until it closed at 7PM. After that, we went to Robinson's Pioneer to buy dinner. We walked from Bayanihan Centre to Robinson's since it's like 6 blocks away. One of the things that I can't help but compare to other countries is how PH's sidewalks were constructed/being used like an extra parking lot or as an extension of one's lot. Sidewalks doesn't have ample lighting too. *sigh*
Anyway, we head to my place to cook our dinner. We had shrimp gyoza and chicken noodles.Our supposedly dinner turned into a full-blown sleepover. It's like we had our own "Komikon" event. We started talking about XMEN. Then, shifted to local komiks and other topics such as anime, game and cosplay. My brother even joined in our discussion.
We also played games such as we'll give you two choices. Choose one and then from that choice, we'll make you choose again until you'll find yourself stuck. I'll give you an example when it was my turn to play the game.
friend: Xmen or Batman?
me: Xmen
friend: Jean Grey or Phoenix
me: Phoenix
friend: Dark Phoenix or White Phoenix?
me: White Phoenix
friend: White Phoenix or White Queen (Emma Frost)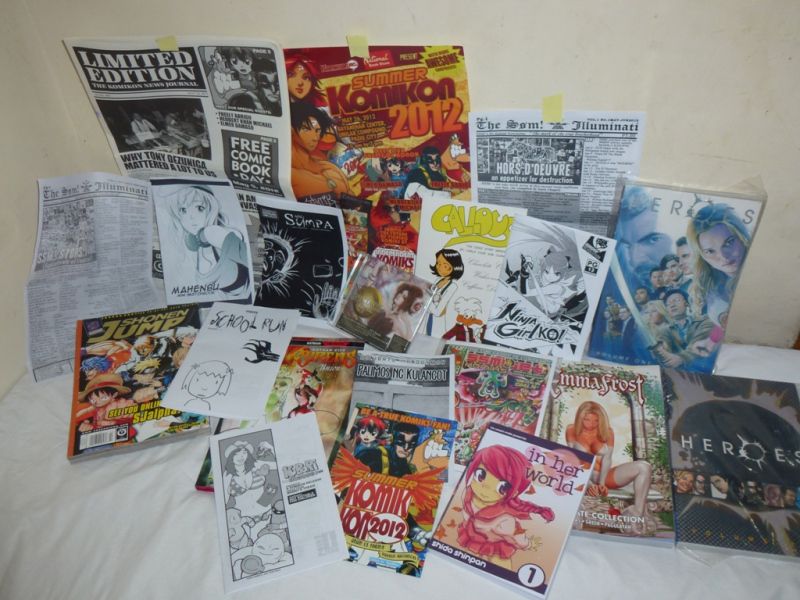 Evidence~
We slept at around 2AM or 3AM. And got up at around 7:30AM, I guess. Despite our place being small (others would call it condo-living to make it sound extravagant, LOL), it was nice to have friends over at our place and talk geek on things such as these. It was fun to watch how my brother, Duston and Chris churned out those comic book trivia out of their heads. Aish and I just foamed our mouths and disappear in the background. Anyway, I'm really looking forward for the next KOMIKON. The last KOMIKON I attended prior to this, was in 2009. I was really happy that I decided to attend this year. It's a breather to be surrounded by art and its talented people. :)