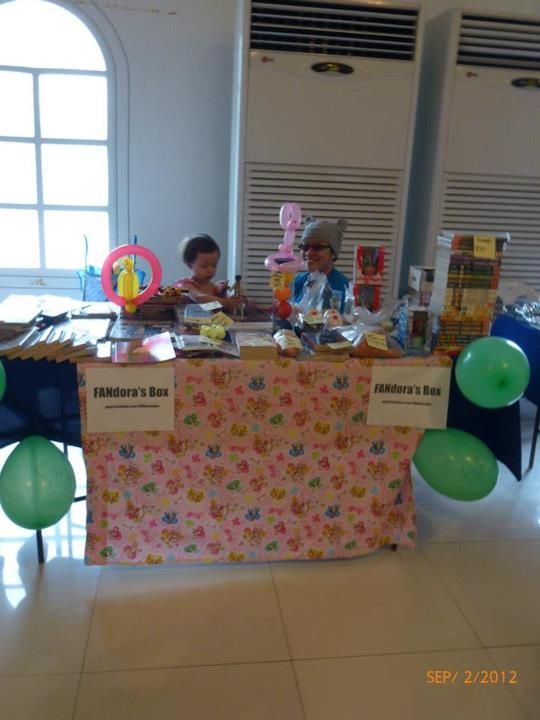 "Ano pong hanap nyo ser/mam?"
Our online shop,
FANdora's Box
, has been around for quite some time. We had
several successful transactions already online
and we wanted to reach out to customers in person. We were planning to get a booth at Fantasy Quest 2 but it's beyond our budget. So when we came across Asian Pop Expo, we decided to give it a try since the whole table (6x2) only costs 2000PHP.
Too Early, Too Late Or Just Right
Let me tell you that my friends and I are "exhibitor virgins". (tricky term, eh?)
What I like about the organizers is that they held a meeting with all the exhibitors/sellers, fanclubs and contestants
1 week before the event. It gave me an expression that they're really serious about making the event smooth-flowing as possible and to set everyone's expectations. As well as answer some of the concerns in person. However, there was some slight miscommunication with some of the attendees. Some of us were informed that the meeting will be at 2PM while others thought it's 2:30PM. While a few thought it's 3PM.
So while waiting for the organizers, I wanted to get to know other people in the business/hobby and in hopes of finding new friends too. But I admit, I was overwhelmed at first. Since, I could hear *familiar* names of Asian acts being discussed but I didn't have enough info. I don't know how to start a conversation with the people around me. I suddenly felt old and disconnected with the fandom. It took a while before I got my own ground and when I did, 2 girls were talking about L'Arc~en~ciel. CHANCE DESU~
Unexpectedly, I also met the current president of the anime org (Genshiken) in DLSU-D in this meeting. One of my fellow members in the #LArcMNL campaign was also there. Anyway, the Asian Pop Expo Pre-Event meeting started at 3:30PM. Everyone was briefed on the rules and regulations. Some are very passionate in their cause so the organizers reminded us not to bash other sellers/FCs to avoid conflict. I think the meeting met its objectives and it ended well despite the hiccup to the time of the meeting.
I understand that there are things that can happen unexpectedly.
MUST HIT MY QUOTA
Event Proper
As per meeting, ingress can start at 8AM. We arrived around 9AM. I have the least number of items among my friends. Kid and Aish brought like backpacks/trolleys with them. All of my items managed to fit in a shopping bag. While we were waiting for the gates to open, we were checking each other's items. We were joking that we might buy each other's items after all.
Venue
The venue for this event was in ELEMENTS in Centris. It's just near Quezon Ave MRT. It's not inside the Centris Mall. But what's a few metres of walking from MRT for such spacious and conducive venue. :) I wore sleeveless because I was expecting that it'll be hot. But I was proved wrong as the aircon was in full blast. But it's not a big deal anyway. I'd prefer the venue winter-y cold rather than hot and sweaty.
It was our first time to attend an event to this venue and I really like ELEMENTS.
I wanted to get this venue for our XMAS party but the people at ELEMENTS/ETON Centris isn't responsive. Ohwell.. maybe not my luck to get this. But I hope other cons would consider having this as their venue. *cross fingers*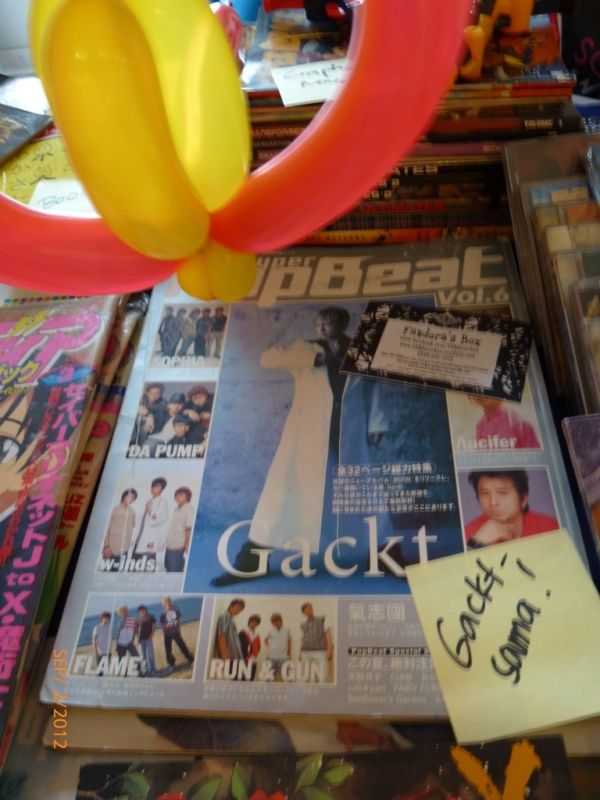 Restrooms
They have a lot of cubicles. So whether you're a cosplayer or an ordinary con goer, waiting time isn't that long. Also, it was not hard to secure a space infront of the mirror despite that there were a lot of participants dolling up. Soap is provided and hand dryer is working.
Food and Drinks
I think there was only one stall/booth offering food during the Asian Expo (under GENSHIKEN). But their food is really good. They were selling cupcakes (from TJS Bakeshop) and onigiri. The onigiri was such a hit.
Usually for cons, I just expect the food as "okay" but not repeatable. We call it
pang-tawid gutom lang. May makain lang.
BUT the cupcakes and ESPECIALLY the onigiri in Asian Pop Expo, we were on repeat order mode! OISHII DESU!
Anyway, I saw some con goers who brought their own food with them so I think it's allowed(?). We brought our own food too incase we couldn't excuse ourselves from manning the booth. If you prefer to buy food near ELEMENTS, there are various choices and the range will be around 200-300PHP per meal/order.
Program
As much as we wanted to check out the contests, we were only contented to get a view from our booth.
We are first time exhibitors so we don't have any idea about when and how will the influx of the people will be. I think as early as 11AM, there were some performers already on stage.
It was later in the afternoon that we had a break.We checked the FCs and we were amused that each has their own gimmicks and unique merchandise. Very creative! I love the idea of one FC where they had a cutout of the band members. Honestly, I was tempted to be silly and take a pic with it. JUST FOR THE NOSTALGIA. haha.. we were once fans of those bands.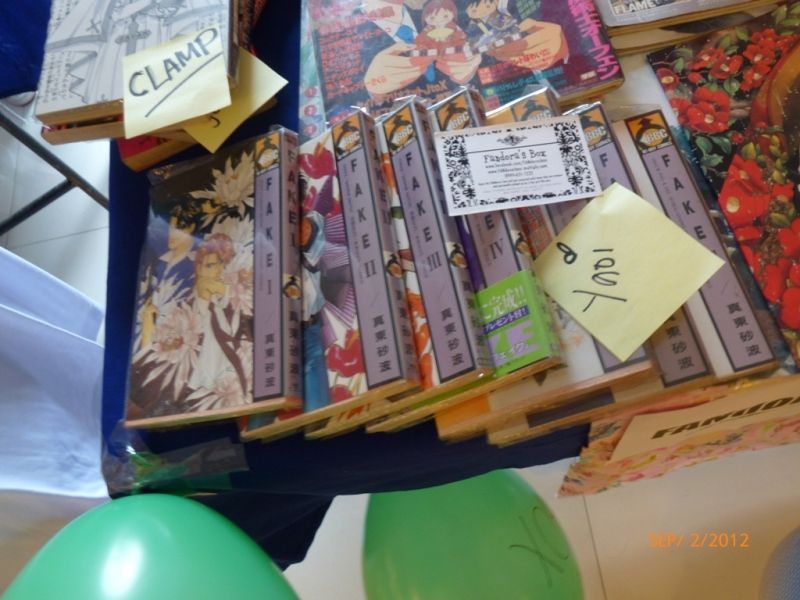 Attendees
I was really humbled that my friends (#LArcMNL, Facebook, Alma Mater) went to our booth. As well as those whom I made friends with during the pre-meeting dropped by as well. Sometimes, it's starting to look like a reunion of sorts. We met people whom we're just familiar with faces back in our hey-days.
It was nice to meet fellow Jmusic fans too. Most of the ones I've talked to are GACKT and L'Arc~en~ciel fans. I spoke to some and had some little discussions too comparing the JPOP vs KPOP fandom.We were amazed how KPOP fans has a strong presence in the said event. While, the JPOP and JROCK still looked and felt the same. Yes, there are some new fans. Very passionate too about the music/artist but we wondered why there's still no mass appeal for Jmusic, not even enough to make the music honchos to sell like 100 or 500 CDs/DVDs. The younger batch of Jmusic fans are still doing what we experienced during our time. They order via online. Yes, the KPOP fans also order online but at least, when they step inside a music store here, they can expect one or two KPOP CDs to be there. For us, Jmusic fans, it's seasonal. Last time I rem, it was the Utada Hikaru Single Collection Vol.1. I can clearly remember that scene as I was in a toss whether I'm going to buy the album of Madonna, Kylie Minogue or Utada. The said albums were lined up beside each other too. Well, I ended up buying all three but only Utada's album was in CD format (yes, the two were in tape- old school!). :))
The other attendees who are also contestants had their own practice area which I think it's a good idea and kudos for the organizers for considering that part. I just hoped that there was some sort of a cover that people couldn't see it. I know some attendees who got confused where was the stage because the practice area seemed lively (sometimes) than what's happening with the stage.
SALES
As for transactions in our booth, it went okay. We managed to break even with what we've paid for the table.
CONCLUSION
Aside from the venue, we really enjoyed hanging out with people who shares the same interests with us.
The venue's good. I'd definitely attend an event again here. Program-wise, I was looking for more variety when it comes to "Asian music". This event has a lot of JPOP and KPOP FCs. Did anyone noticed if there's a fanclub for Mandarin/Chinese as well as Malaysian artists? I was looking forward to see that or maybe I just missed it? How about OPM? I mean Filipino artists are considered Asians, right? This event has a good concept. I hope they'll have another one next year. Maybe incorporate it with OKTOBERFEST? Music+Booze = that's one irresistible combo!
***The magazine featuring GACKT and the 1st edition Japanese print, FAKE manga are still available as we speak
,
check out our shop for more items
.